The electrodes are manufactured of Cr Cu Zr alloy. Our range of welding electrodes helps our clients in delivering accurate results. These can also be customized as per the requirements of the clients.
Autoweld manufactures a large variety of Spot / Projection & Butt welding electrodes to meet diverse needs of the client. we manufactures fully machined electrodes in Chromium Zirconium Copper, Beryllium Copper, Tungsten Copper, Tungsten & Molybdenum. We also manufacture composite spot welding electrodes with refractory tips of Tungsten or Molybdenum Silver brazed on to Chromium Zirconium Copper shanks.
Electrodes are made of Cr Cu or Cr Cu Zr with a specialized process of cold forming to enhance the working life and to reduce dressing frequency. Tungsten/ Molybdenum tip electrodes for non ferrous material welding are brazed under special conditions to ensure their properties.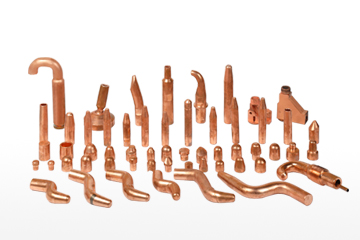 ---
Projection Welding Nut & Stud Electrodes
These are specially designed and manufactured with proprietary manufacturing process of Weldcon for longer life and to ensure the correct location of the Nut or Stud to be welded. Locating pins for nuts are available in various materials like ceramic, coated steel and stainless steel. Pneumatically operated nut welding electrodes also available on request.