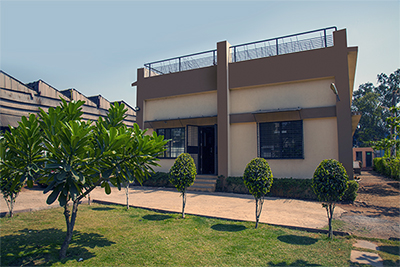 Autoweld System
Established in 2001, we Nashik Autoweld Systems Pvt. Ltd are an ISO 9001:2008 certified company engaged in manufacturing and supplying of resistance welding products. Our company engineers cold formed cap tips, spot welding electrodes, laminated shunt, flat shunts, PSW Gun, Seam welding wheels, single conductor water cooled cable, Kickless Cables, Stud welding collets & Receivers, Flexible jumpers, Spot welding fixtures, Copper chromium plates, & Spot welding gun accessories.
As an active industry player we are functioning to satisfy the Spot welding products of our customers. Our concern has been a fast growing establishment since the beginning & is known for customer orientation. For sustaining this reputation, we have been incorporating modern technology at every stage of production. Thereby, we have the necessary facilities that enable us to meet the diverse welding accessory requirements of our clients. Today, we have successfully attained a position in the market and are serving a host of reputed clients from automotive, Electrical, Fabrication & Engineering industries.
---
Our Mission
To supply leading industries with quality resistance welding products at competitive prices.
To assist in customization of parts to local needs.
To provide quality products with excellent customer support and timely delivery.
To support industries with localization of spot welding consumables & accessories..
To minimize production down-time with safety stocks for high turnover consumables.
Team and Management
Our workforce comprises of excellent technical & non-technical personnel. We have engineers, quality analysts, management & administration personnel's, sales and marketing representatives and other skilled workmen. With cooperation and commitment towards the concern, our team has been a very successful team so far. Each teammate takes hard core initiative towards the establishment adhering to the all the principles of the company. The staff has been working hard to manufacture the best and exactly as per client's requirement.
---
Manufacturing Facility
We are having a total factory area of 10000 sq. ft. where our production facility spreads. Use of various modern machinery assures accurate and fast production.
We have also incorporated modern technology for perfect manufacturing of our welding products. Our company comprises excellent working environment that is well managed by a strong team of professionals. Other than this, we are even having modern packaging and storage facilities so as to keep our products safe and secure.
---
Packaging & Warehousing
Packaging of machines is given huge importance and that is why each consignment is packed in special wooden boxes that ensure transit safety. Each product is individually packed one by one. We ensure complete safety while packing them and further storing them. Our spacious area helps us for the storage of the products and we keep in mind all the attributes such as temperature, rodent and other environmental factors for safe storage. Utmost care is taken not only at the time of packing but also delivery. Further, the products are delivered in the correct date as per commitment through our associated C&F agents.
Customization
A customization process brings modifications and developments in a particular product. So, to accomplish this, we strictly implement all the specifications and requirements of the client while product development. So that we design, develop & deliver welding accessories that would deliver optimum functionality to the client.
---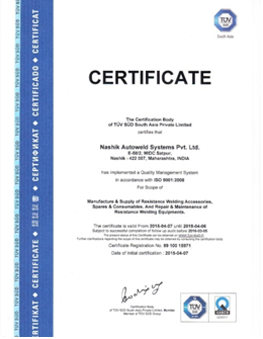 Quality Compliance
As an ISO 9001:2008 certified company we pay utmost importance to the quality checking of our products. At our quality inspection division, we have the facilities that are required to ascertain the quality of the product. Some tests that are conducted for quality assurance are:
Hardness & stability test
Test for chemical composition
Dimensional inspection
Special attention is also given at every stage of production so as to make fine and long lasting range equipment. Our products are made keeping in mind they are completely defect free and highly efficient. We approve quality of our products only when they comply with the desired test results. This ensures a safe range wielding accessories to our clients.